Visiting from Abroad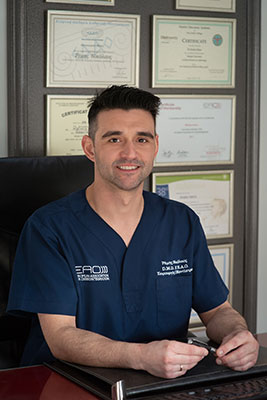 Dr. Remis Nikolaos
Dental Surgeon D.M.D F.E.A.O
Get shinny smile while your vacation in Kalamata, Greece!

Under the imposing mountain of Taugetos, in the arms of the Messinian gulf, is the beautiful sunny city of Kalamata! A city that accompanies both the mountain and the crystal clear sea! Its beach is endless! Kalamata invites you to visit it. By taking your vacation, you can comfortably combine your implant rehabilitation or any other dental treatment at the Remis Dental Clinic.

We treat our patients safely, by using excellent quality materials, in a pleasant and relaxing environment with affordable prices compared to those abroad! Always starting from a thorougn examination, diagnosis and discussion of our patients needs, we propose therapeutic regimens completely personalized with the aim of excellent aesthetic and functional rehabilitation! Access to the city of Kalamata is convenient through the city's international airport. Alternatively, if the flight schedule does not serve you, you can land at the Athens International airport which is 2 hours away.

At Remis Dental Clinic we have organized the whole process in a very effective way. First of all, you have to contact as: info@remis.gr. We will ask you to send us all the necessary information regarding your medical and dental history as well as photos and dental x-rays if it's possible. This will help us to form an treatment plan based entirely on your personal needs and desires! Then we will inform you in detail via email, without cost, for the treatment plan, its duration and the cost. We will also answer any questions you may have.

If you agree with the proposed treatment plan, our patient care representative will be at your disposal to assist you with booking your tickets and accommodation and she will book the necessary appointments for you. Indicatively a simple implant prosthesis involving one to three teeth can be accomplished within 6 days and a complete restoration of the upper and lower jaw 2 weeks. In some cases you may need a second trip within 3 months.

With your arrival at the airport, our driver will pick you up completely free of charge, who will bring you directly to our doctor's office. At our doctor's office we will examine you, discuss any details and start your treatment immediately! During the stay in the sunny city of Kalamata, our patient care representative will be at your disposal to inform you about the activities in your free time. Indicatively and depending on your free time, you can visit neighboring parts of Messinia. Upon completion of your treatment, we will give you a complete file with all the necessary information and x-rays. In addition our driver will return you to the airport. We are convinced that you will leave with the best impressions both for our doctor's office and our staff, as well as for the sunny city of Kalamata.