About us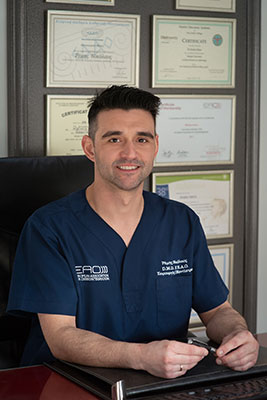 Dr. Remis Nikolaos
Dental Surgeon D.M.D F.E.A.O
Dental Surgeon, Nikolaos I. Remis D.M.D – F.E.A.O was born in Kalamata in 1979. He graduated from the medical school "Ovidius" of Constanta at Romania, Department of Dentistry, in 2003. After completing his undergraduate studies, he continued his postgraduate studies at the department "Oral and Maxillofacial surgery" at the same University for the next two years. At the same time, he worked in a private dentistry focused on Oral Surgery, Implantology and Periodontics. In 2005 he became a member of the Messinian Dental Association.

Returning to Greece in 2006 and as a staunch supporter of LASER's innovative technology in dental science became member of HELSOLA (Hellenic Society for Oral Applications) participating in numerous scientific conferences focus on the application of LASER in dentistry. In November 2006, he served his military service, initially at 251 Air Force General Hospital and then completed his term of service at Hellenic Air Force 120 FTW in Kalamata. At the same time he became a member of the '' Hellenic Academy of Aesthetic Dentistry ''.

In 2008 he started working in his dental clinic in the city of Kalamata practicing modern dentistry with the patient's smile in mind and focusing on the restoration of complex dental problems in the oral cavity. In 2012 completes his training in the use of autologous growth factors in Implantology. His dentalclinic is one of the first clinics in Greece where implants are implanted using PRP and CGF. In the same year he became a regular member of the European Academy of Osteogenesis E.A.O.

He participates in a series of seminars and conferences both in Greece and abroad, focusing on the areas of total implant restoration, reconstruction-restoration of damaged periodontal tissues, and modern aesthetic restoration of the smile.