Remis Dental Clinic
High quality dental services in Kalamata!
Our dental clinic is well-equipped, as it suits in our high-demand dental science!

The incidents that we deal with in our dental clinic covers the whole spectrum of dentistry. Always starting from a thorough examination, diagnosis and discussion of our patients' needs, we propose therapeutic regimens completely personalized with the aim of excellent aesthetic and functional rehabilitation!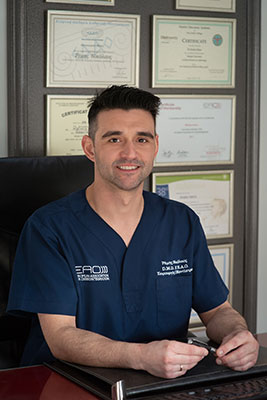 Dr. Remis Nikolaos
Dental Surgeon D.M.D F.E.A.O
Oral Hygiene
Why is prevention important?
The key to the success and long-term maintenance of the therapeutic effect is the application of the right oral hygiene! With a view to preventing future problems as well as maintaining excellent oral hygiene, we are implementing a fully personalized re-examination program for each of our patients. For this reason, our office secretariat communicates with our patients, reminding them of their scheduled recheck and maintenance of their smile!